We have asked our design team to advise us on what to wear for the Cheltenham Festival 2023.
The Festival takes place between the 14th and 17th March 2023. There are many highlights at the Cheltenham Festival, these include Ladies Day (15th), St Patricks Day (16th) and Gold Cup Day on the 17th. The tickets are the hottest tickets in town, with limited availability on most tickets as of today. The 17th is sold out except for some of the Hospitality areas.
If you have your stylish summer raceday cocktail dress already to go, you may be best leaving it home. The Cheltenham Festival in March is not the same as Royal Ascot in June, out with the dress, outerwear is what turns heads here and is the fashion priority.
There is no official dress code for the festival. The Jockey Club website suggests that dressing up and keeping warm is the order of the day. Style yourself individually, but remember the weather in March can be unpredictable, so it is worth bearing in mind that you may want to keep warm. A stylish summer cocktail dress with goosebumps is not the look you want.
Clothing
Karen, our head designer suggests 'It is worth choosing an outfit that can be layered, one that can be slightly changed on the day to make the most of what you wear. Think along the lines of a suit, or jacket with a skirt or a pair of smart trousers. Then have a blouse or jumper (or both) under your jacket. An overcoat and warm poncho will finish off your clothing. You will feel great, keep warm, look great, and will blend in perfectly'.
The chances are that the weather will be cold, so keep warm. Even if you are in the Hospitality areas, you will still need to go outside to watch the races, especially if you love the finish line excitement. The favourite fabric of any winter racing event, especially National Hunt racing is Tweed. Tweed doesn't have to be conservative, there are many options that will allow you to show your individuality if you wanted to. Tartan, Houndstooth and block colours also look great, along with Faux Fur. A Grace and Dotty Cape or Poncho is a great example of the final outer layer for the Cheltenham Festival. Our Eleanor, Megan and Georgina Capes are definite Cheltenham favourites. For jackets we would suggest looking at Holland and Cooper or Welligogs.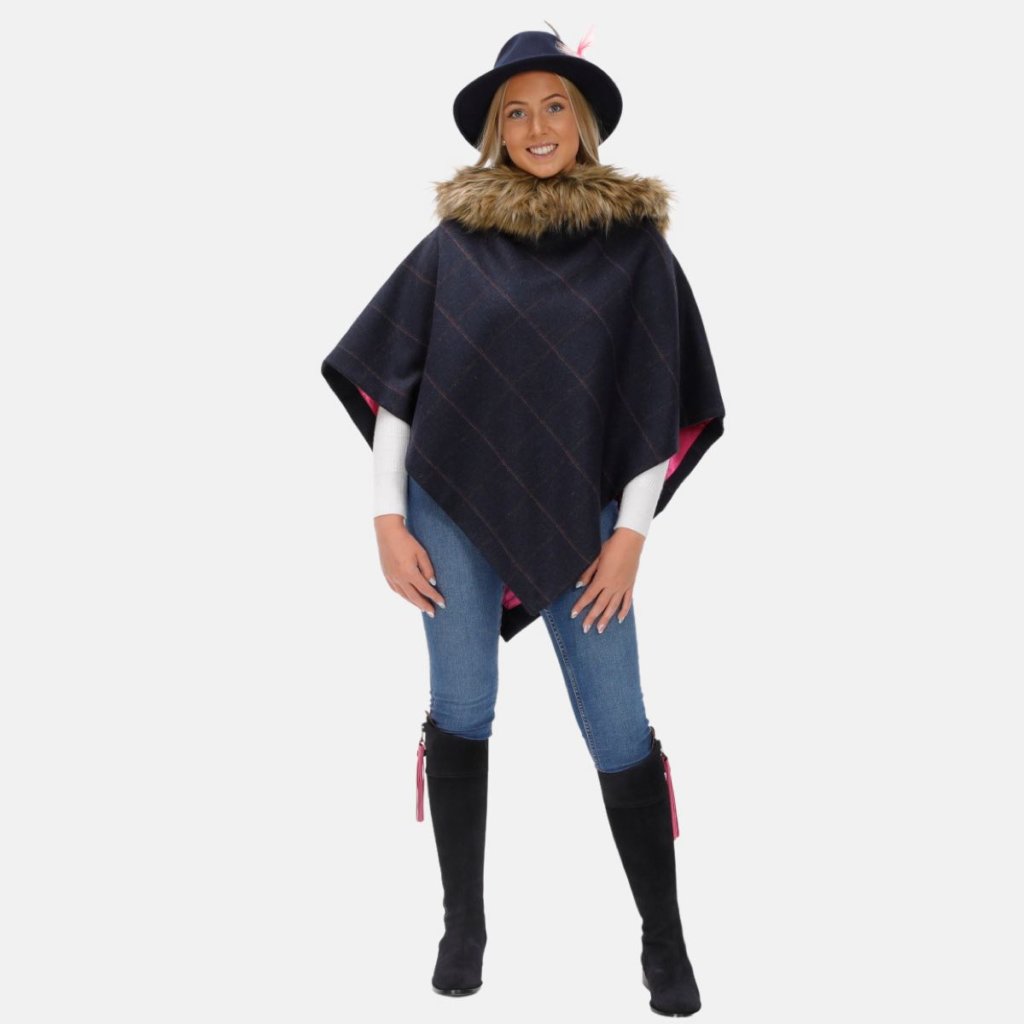 Footwear
Two-thirds of the Car Parks at the Cheltenham Festival are on grass, and some of the on course ground is on grass too. It maybe time to ditch the heels, and see what else you can wear. Our boot of choice, along with many of our customers is the Fairfax and Favor Regina boot. Don't be put off by the price tag, these boots are absolutely awesome. Only Richard in our office doesn't wear them, everyone else in the office LOVES THEM. Fairfax and Favor don't only sell Regina Boots, they have a wide array of products that are perfect for Cheltenham. Other footwear is available to suit costs, from Dubarry and Toggi to Rydale, there are many options out there.
Headwear
You should always add some stunning headwear to your outfit, whether you go for a Fedora with Feathers or Faux-Fur, there are many options for you to choose from. The Grace and Dotty Fedora and Feather range has Fedora hats to go with many outfits, our Tweed and Faux Fur headbands also add a stunning look to your race going clothing.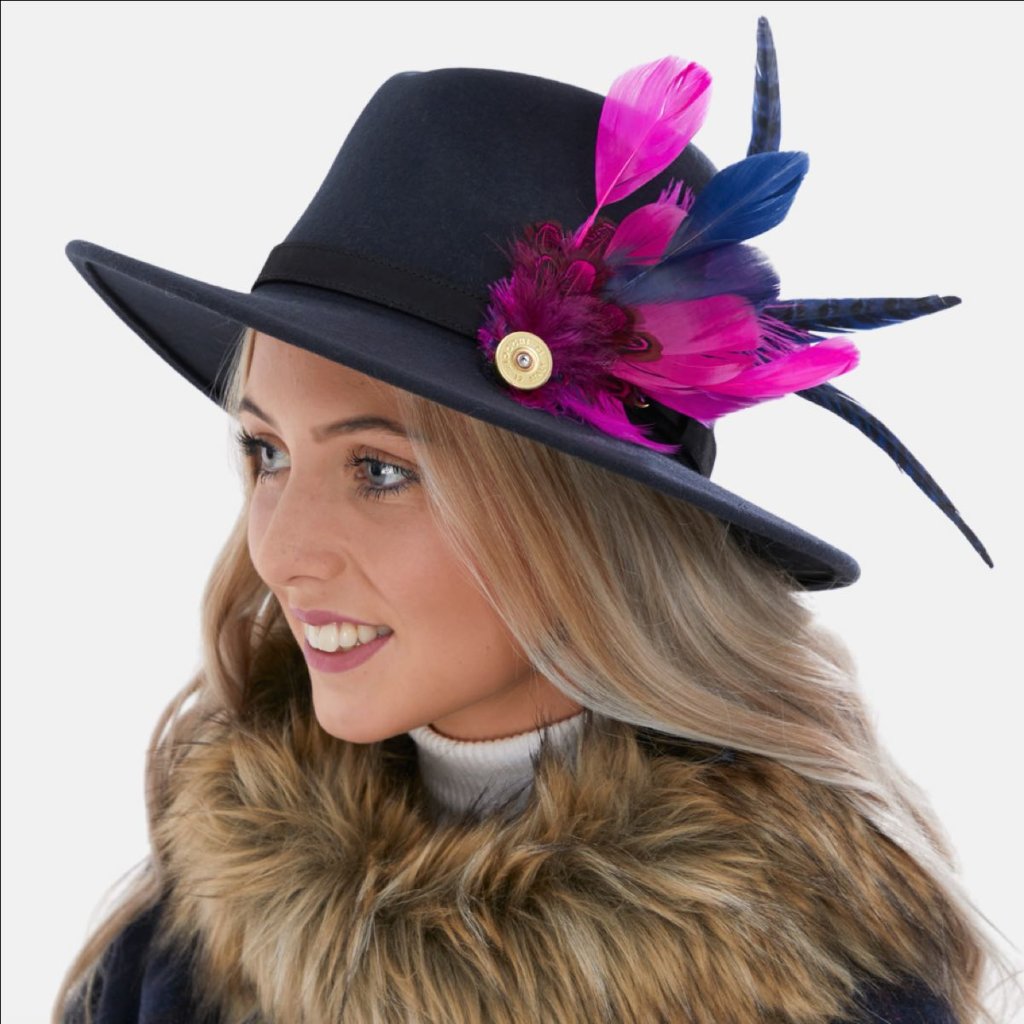 Handbag
Think of all of the things that you may need to put in your Handbag. Small shoulder bags are great for wearing across your shoulders and body, but what do you need to carry with you? If it is just a bit of lippy, and a splash of perfume, then that is perfect. But think Gloves, a Scarf maybe, Sunglasses (You never know but Mr Sunshine may appear) and money, especially if you hit the big win. Leather or Tweed Handbags make great options for the Cheltenham Festival.
Jewellery
If you are wearing an overcoat, poncho or cape, a necklace will be hidden. If Jewellery is your thing, then think of earrings, brooches and scarf rings if you wear a scarf. Go for a statement or individual piece, something that draws attention and lifts your look.
Happy racing if you go to the Cheltenham Fesitval, post your images of your Grace and Dotty outfit with the #graceanddotty or tag us in with @graceanddotty, we will happily share your images, and give you a credit.